This is an archived article and the information in the article may be outdated. Please look at the time stamp on the story to see when it was last updated.
MEMPHIS, Tenn. — Memphis police have identified the woman at the center of an animal cruelty case in Cordova.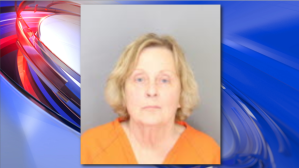 Charlotte Creasy is facing aggravated cruelty to animals charges after a  hazmat team retrieved multiple animals from a home on Cairn Creek Drive on Thursday night.
It all came to light after Memphis Animal Services received a tip that multiple animals were living in "unsanitary conditions." When they arrived to investigate, officials said they found one dog, 16 cats and one dead cat inside the home. There were additional cats in a building out back, which had no heat, air or ventilation.
MAS immediately called the Memphis Police Department for help.
According to the police report, animal feces and urine covered the floor and every surface the animals could reach. In some spots, the feces was piled over an inch thick.
The smell inside the home made it difficult for officers to breath, officials said.
"It was difficult to find a surface in the home that didn't have feces or urine on it," said Katie Pemberton, director of MAS. "In some places, the feces was about an inch thick. I know our officers found it difficult to breath when they were in the home."
Officials also noted that a large number of the animals appeared to have respiratory, skin and eye infections.
In all, MAS said they recovered 26 live cats and one deceased cat from the home.
This is not the first time Creasy has been charged with animal cruelty.
In 2014, WREG reported that Tipton County Animal Control found a building in Mason, Tennessee, with nearly 100 cats, all put there by Creasy as part of her animal rescue movement. There was little or no food and water.
No one answered the door when WREG visited Creasy's home.