This is an archived article and the information in the article may be outdated. Please look at the time stamp on the story to see when it was last updated.
The original Gerber baby, Ann Turner cook, turned 91 yesterday.
Cook's connection to the baby was kept secret for 40 years, according to the company's website.
According to Gerber, in 1928, Gerber held a contest to find a face to represent a baby food advertising campaign.
An artist by the name of Dorothy Hope Smith entered a simple charcoal sketch.
Smith's sketch was "of a tousle-haired, bright-eyed cherub of a baby with endearing pursed lips."
Smith said if she won she would finish the sketch.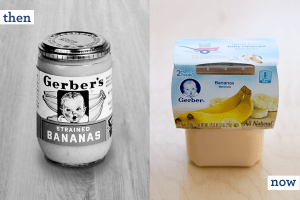 According to Gerber, the judges fell in love with the sketch, despite elaborate oil paintings, and requested the sketch stay the same.
Smith was Cook's neighbor.
Geber states that the sketch became "the face that launched a brand, a face recognized and loved across the globe."
And now through the ages.
The company adopted the sketch as their official trademark in 1931.
"Mrs. Cook's sparkling eyes and adorable, curious baby face still personify the Gerber brand, representing Gerber's commitment to happy, healthy babies all over the world." -Gerber Website.