This is an archived article and the information in the article may be outdated. Please look at the time stamp on the story to see when it was last updated.
BROWNSVILLE, Tenn. — Students at Haywood High School walked out of class in protest Monday after some students said they were the target of racist threats made by other students.
According to a student who contacted WREG,  members of the baseball team posted the messages to social media, using a racist expletive to describe black students and referencing "stringing" them up.
Video from the scene Monday shows about 200 students participating in a sit-in in the school. Later, many students walked out of the school, though they stayed on school property.
"Today we all come together to fight against racism," said student Malik Green, who helped organize the protest. "We just can't stand for it anymore and we needed to take action."
Green said he was "speechless" when he saw the social media posts, because they were from students that he was around every day.
The students said they were protesting the lack of action by school administrators, who ordered the students who sent the message to write a 10-page paper as punishment.
"They tried to sweep it under the rug," Green said.
District officials were not immediately able to confirm that the students were assigned to write a paper.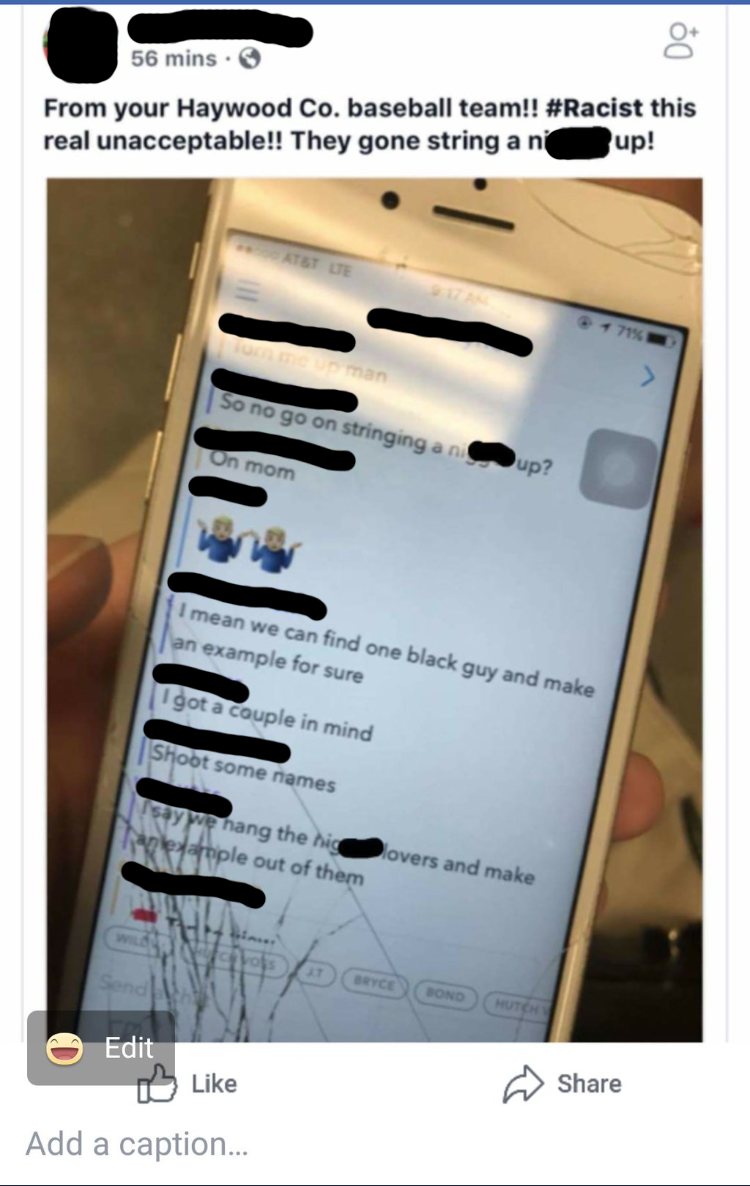 Haywood County Schools Superintendent Joey Hassell released a statement on the the district's Facebook page saying he was made aware of a social media post Sunday and has requested a detailed report of the investigation by the school. The district is cooperating with the Brownsville Police Department, he said.
"I have also been in communication with Chief Diebold and he has consulted with the District Attorney's office on the content of the message. Based on review of the DA's office, it is my understanding that there will be no criminal charges; however, the school district will review the findings of the HHS investigation and determine what actions will be taken. A thorough review will occur.
"Our job is to educate and protect all students. Hatred, racism, and bigotry have no place in our school district."
Hassell later added, "We are completing a full investigation and will then take appropriate action based on the findings and following school board policy."
Update: Superintendent Hassell has released an updated statement in regards to the racial posts stating that he has, "authorized an in-depth investigation into allegations of social media posts concerning Haywood High School. The investigation is fully supported by the Haywood County Board of Education."
Hassell goes on to say those who published the posts along with those who were aware of who made the posts but kept it to themselves will be punished.
The investigation is currently underway and is anticipated to take place over the remainder of the week.