This is an archived article and the information in the article may be outdated. Please look at the time stamp on the story to see when it was last updated.
MEMPHIS, Tenn. — It was a packed service as friends and family remembered the life of Britney Allgood, who was stabbed to death last week.
Britney Allgood's step-father Phillip Brittenum said she had much to look forward to.
"To lose our baby – and she had so much to live for. She had so much to fight for, and she'll never be able to do that," Brittenum said.
Several dozen walked into Rock Nation Church feeling the emotions.
Allgood was an only child. Loved ones held her mother tight as she grieved after losing her baby who meant so much to her.
"She goes to sleep crying, she wakes up crying, everywhere we go it's a constant flow of tears," Birttenum said.
There were several meaningful shirts worn to the services. One read "enough" another read "fly high Britt."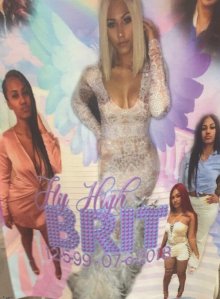 Classmate Janerika Owens said that Allgood's death should bring an end to the violence.
"This should be a great example that we should just all stop and just come together," Owens said.
After seeing the videos, riding past the place where it happened and now witnessing the reality of it all, some teenagers are putting this into perspective.
"We just wish the violence would stop. We're very young and a lot of things are happening at a young age, and I just wish everybody comes together," Owens said.
Allgood's family says they hope this kind of pain opens the eyes of some of the younger people who may not realize how serious violence can be.
"It's not their cousin or it's not their sister or brother. It's not their auntie or uncle, but what's going to happen when it falls in your backyard?" Birttenum said.
And as the family says their final goodbyes, they hope people remember Allgood not only through violent videos but also as someone who will forever hold a place in their hearts.
"Britney was an outgoing, smart, loving individual that worked hard for her own. Baby had been working since she was 16 years old, so to lose this girl – it's hurtful," Birttenum said.
Her family is still fighting for justice in this case.
They have been contacting whoever they can to keep Britney's name alive.