This is an archived article and the information in the article may be outdated. Please look at the time stamp on the story to see when it was last updated.
JACKSON, Miss. — Three men have been charged with capital murder following the death of 6-year-old Kingston Frazier, authorities said during a news conference in Jackson, Mississippi.
On Thursday, Dwan Wakefield, Byron McBride and DeAllen Washington were taken into custody and booked into the Madison County Detention Center without the possibility of bond.
According to authorities, the mother and child went to Kroger on I-55 in Jackson around 1:15 a.m. She told investigators she was only going in for a moment and left Kingston in the back seat.
Surveillance video showed several men in a 2-door Honda pull up to the car. One of the suspects jumped into the running car and sped away, reported WJTV.
When the mother came back, the car and Kingston were gone.
During the news conference, law enforcement said the mother spoke with an officer at Kroger around 2:30 a.m. saying that her car was missing.
It appears she did not mention that her son was inside.
Once made aware of the missing child, an Amber Alert was requested and subsequently issued by the Mississippi Bureau of Investigation.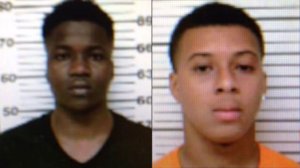 Tragically, that alert was canceled several hours later when authorities discovered the stolen car abandoned in Gluckstadt in Madison County.
Little Kingston was in the back seat of the vehicle dead. He had been shot, authorities said.
Wakefield, 18, was taken into custody around 11 a.m.
WREG was told the second suspect, 18-year-old Washington, turned himself in Thursday afternoon with his attorney and family by his side.
McBridge was taken into custody in Ridgeland by the U.S. Marshall's Service.
According to Kingston's uncle, the 6-year-old was getting ready to graduate from his grade on Thursday.
The Jackson Public School District is asking the public to keep Kingston's family in their prayers:
"The Jackson Public School District is deeply saddened by the tragic death of North Jackson Elementary scholar, Kingston Fraizer. He was beloved by his classmates and teachers and will surely be missed. The District is providing grief counselors to the students and staff of the school. We ask all citizens to keep the Frazier family in their thoughts and prayers."